Please note – Peninsula Speaks is no longer operating. The information contained in this website is not edited and may be out  of date.
Peninsula Speaks Inc. is a community organisation that was founded by Christine Haydon and Peter Avery in 2008 to help give a collective voice to those concerned about the preservation of the unique and diverse environment and landscape values of the Mornington Peninsula, among them the incremental development and government policy threats to the Mornington Peninsula Green Wedge.
Peninsula Speaks' role is in coordinating and facilitating community input into shire and state planning schemes and environmental and landscape preservation.
This site is a portal for easy access to local environmental, planning, council and State Government online resources as well as articles, comments and news.
---
News
Community win at VCAT regarding proposed McCrae development
A statement from McCare Action Group:
VCAT decision for 647-649 Point Nepean Road, McCrae
We are pleased that this week after 4 long months VCAT found that the "decision of the Council is affirmed" and "no permit is granted".
We thank you for your opposition which helped. We received almost 300 objections from residents in the area near to the proposed 4 unit development.
In handing down its decision VCAT commented:
"The proposal as presented dominates the site to the point of transformation, rather than achieving a design solution that integrates with the existing vegetation, the streetscape and surrounding development."
"The coastal strip [i.e. Anthony's Nose to Lonsdale Street] seems to be catering for the retirement market and holiday accommodation, however, the response to retaining coastal vegetation within multi-dwelling sites is disappointingly variable." 
"The settlement strategy for Metropolitan Melbourne identifies McCrae and the other coastal settlements along the southern shore of Port Phillip Bay as part of urban Melbourne, but not a focus for major growth. "The Peninsula simply does not have the infrastructure links necessary for substantial growth."
While the result is pleasing and some of VCAT's comments are relevant to the broader McCrae and Southern Peninsula it must be noted that the coastal properties along Point Nepean Road including this proposed development are subject to an Environmental Significance Overlay.
Finally we must point out our disappointment with the lack of support from Mornington Peninsula Shire. We asked the Mayor to provide an "A Team" to present its case at VCAT. To our surprise only a lone young, very junior planning consultant presented the case on behalf of the Shire who indicated to us that this was the first time she had presented VCAT.
WE FIRMLY BELIEVE THAT IT WAS THE EXTENSIVE RESEARCH, EFFORT AND HIGH STANDARD OF THE THREE COMMUNITY MEMBERS' PRESENTATIONS WHICH RESULTED IN SUCCESS, AND NOT THAT OF THE NON-INSPIRING COUNCIL PRESENTATION.
The full VCAT decision can be found on the austlii website at: http://www8.austlii.edu.au/cgi-bin/viewdb/au/cases/vic/VCAT/
(Click on year, then 2019, then September 2019 and scroll down to the case report at the date of 20 September 2019)
With thanks
Alan Nelsen
McCrae Action Group/Mornington Peninsula Ratepayers' Association
---
GREEN WEDGE:
SUBMISSIONS to the Draft Mornington Peninsula Green Wedge Management Plan
Red Hill Ward Consultative Group:
Mornington Peninsula Ratepayers' and Residents' Association Inc:
Victorian Farmers Federation (VFF) Peninsula Branch:
PRESS ARTICLES
---
PLANNING:
28 JUNE 2018
26 JUNE 2018
JUNE 2018
Peninsula Speaks has been working behind the scenes to ensure that the Mornington Peninsula has it own Localised Planning Statement and that Green Wedge is protected. Unfortunately, whilst locally some members of the Greens have supported us, their "head office" does not have the same view. Please read article on the front page of the Southern Peninsula News 5 June 2018 'Greens in blue over planning'
MAY 2018
We are heartened by the overwhelming response from locals to our Planning Petition and the support we are getting in The Legislative Council. Click here to read David Davis MP's recent comments on the Planning and Environment (Distinctive Areas and Landscapes) Bill.
MARCH 2018
​As part of our ongoing efforts to achieve change in the planning laws for the Mornington Peninsula we attended a media event organised on behalf of the Council by Media Launch. Local and Melbourne media were invited to attend and see a demonstration of the 3 storey levels and how it may impact on the amenity of local residents. Helium balloons were used to illustrate the new height allowances providing a picture opportunity and a number of people were interviewed to provide a video for release for social media and online viewing.
Watch the video below for edited comments by the Mayor Brian Payne and Co-Founder of Peninsula Speaks Christine Haydon.
---
THANKS TO THE BENDIGO BANK FOR THEIR SUPPORT
Co-Founder Peter Avery receiving the grant, with Elizabeth Clark, Customer Relations Manager – Rye Bendigo Bank
---
OLD PIONEER QUARRY, DROMANA
---
LOCALS CONCERNED ABOUT TRAFFIC NOISE FROM FREEWAY
We have been contacted by many locals concerned about the increased Morn Pen Freeway traffic noise levels and lack of action by authorities to resolve the problem. The issue made the front page of the Southern Peninsula News 22 May. Details regarding contacts and a public meeting in the article
---
PURVES ROAD WILDLIFE SIGNAGE & SPEED LIMITS
---
Latest Newsletter
Summer 2018 Edition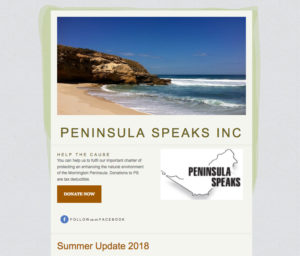 Peninsula Speaks acknowledges and pays respect to the Bunurong / BoonWurrung people, the traditional custodians of these lands and waters