Peninsula Speaks Inc. is a community organisation that was founded by Christine Haydon and Peter Avery in 2008 to help give a collective voice to those concerned about the preservation of the unique and diverse environment and landscape values of the Mornington Peninsula, among them the incremental development and government policy threats to the Mornington Peninsula Green Wedge.
Peninsula Speaks' role is in coordinating and facilitating community input into shire and state planning schemes and environmental and landscape preservation.
This site is a portal for easy access to local environmental, planning, council and State Government online resources as well as articles, comments and news.
---
Latest News
PLANNING PETITION UPDATE
We are heartened by the overwhelming response from locals to our Planning Petition and the support we are getting in The Legislative Council. Click here to read David Davis MP's recent comments on the Planning and Environment (Distinctive Areas and Landscapes) Bill.
---
THANKS TO THE BENDIGO BANK FOR THEIR ONGOING SUPPORT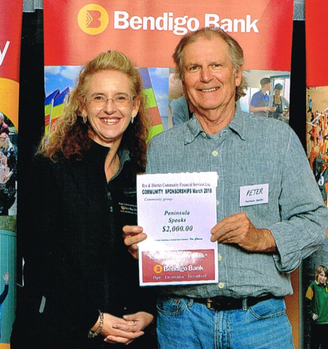 Co-Founder Peter Avery receiving the grant, with Elizabeth Clark, Customer Relations Manager – Rye Bendigo Bank
---
LOCALS CONCERNED ABOUT TRAFFIC NOISE FROM FREEWAY
We have been contacted by many locals concerned about the increased Morn Pen Freeway traffic noise levels and lack of action by authorities to resolve the problem. The issue made the front page of the Southern Peninsula News 22 May. Details regarding contacts and a public meeting in the article
---
UPDATE 27 MARCH 2018
​As part of our ongoing efforts to achieve change in the planning laws for the Mornington Peninsula we attended a media event organised on behalf of the Council by Media Launch. Local and Melbourne media were invited to attend and see a demonstration of the 3 storey levels and how it may impact on the amenity of local residents. Helium balloons were used to illustrate the new height allowances providing a picture opportunity and a number of people were interviewed to provide a video for release for social media and online viewing.
Watch the video below for edited comments by the Mayor Brian Payne and Co-Founder of Peninsula Speaks Christine Haydon.
---
Latest Newsletter
Summer 2018 Edition